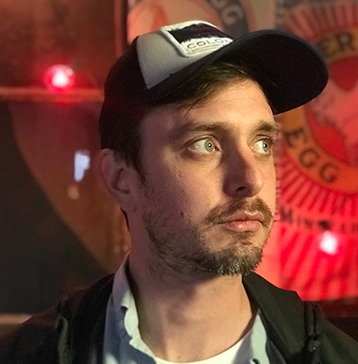 I am a Cannes / Clio / D&AD and OneShow award-winning art director originally from Buenos Aires, Argentina. I'm also a guy who codes and creates interactive sculptures, works with CGI and welds custom furniture. Me, my green card and trusty companion Pacha are excited to freelance anywhere in the US, with special preference given to Los Angeles. Recent clients include VW, Tide, Time Warner Cable, Fox, YouTube Red and my Culver City apartment where I installed hardwood floor to cover up some questionable carpet. Oh and I sail.
   Deutsch LA | Feb 2018 - July 2019
   Client: Volkswagen 
• SENIOR ART DIRECTOR (Freelance)
   360I LA | Apr 2017 - Feb 2018
   Clients: Fox Networks, Youtube Red. 
   Saatchi & Saatchi NY | May 2015 - Apr 2017
   Clients: Tide and General Mills.
   Ogilvy and Mather NY | Jan 2010 - May 2015
   Clients: Coke, Fanta, Time Warner Cable and Ikea.
   Crispin Porter and Bogusky Boulder, CO | Jun 2009 - Jan 2010
   Clients: Burger King, Best Buy and Amex Open. 
   Upright Citizens Brigade | 2019
   General Assembly | 2013 - 2015
• MIAMI AD SCHOOL PORTFOLIO
   Miami School SF | 2008 - 2010
• GRAPHIC DESIGN BACHELOR'S DEGREE 
   ORT Buenos Aires | 2003 - 2016